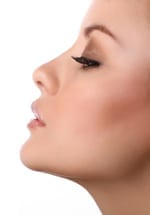 Over the years, I've had various patients ask me if face lipo could help with issues like drooping jowls—and I have always responded with a definitive no.
Here's why:
As you age, you automatically begin to lose fat—as well as muscle—in the facial area. That's why most anti-aging cosmetic procedures for the face involve putting something into it (like dermal fillers, for example), not taking something out of it.
In the 1980s, when liposuction was first introduced, most plastic surgeons felt comfortable applying it to pretty much any area of the body a patient requested. Through trial and error, however, we have come to understand that the face is not a viable option for liposuction treatment. This is partly because of the fat loss I referred to above; removing fat from your face can lead to a hollow look and/or cause your skin to become loose, both of which actually add years to your face rather than subtracting them. Another reason is that your face is full of nerve endings, and liposuction can damage them—which can affect your ability to make certain facial expressions.
So, while liposuction can certainly be a very effective way to treat certain parts of the body—including the neck—it is not the way to go if you want to make changes to your face. If you'd like to speak to me about other (more suitable) options to help you look your best, however, please give me a call and we can set up a consultation!