The First and Only FDA-approved Filler for Hands
RADIESSE® is the first and only dermal filler that is FDA approved to address the loss of volume in the hands. Over time, the loss of volume in the hands can make the skin look wrinkled. This often exposes unsightly tendons and veins. Since, the hands are one of the most visible parts of the body, the appearance of the hands is an important indicator of aging. RADIESSE for Hands provides immediate volume and smooth and natural looking results that last up to one year.*
Click here, to check pricing on Radiesse for the hands.
Pacific Heights Plastic Surgeryrecognized as a RADIESSE Center of Excellence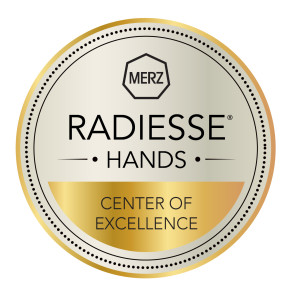 We are proud to announce to that Dr. Kaplan and Pacific Heights Plastic Surgery has been selected to be a RADIESSE® Center of Excellence. This designation recognizes Dr. Kaplan as a premier Certified Injector of RADIESSE and for demonstrating expertise in the aesthetic treatment of hands. Call Pacific Heights Plastic Surgery today to schedule your hands consultation with Dr. Kaplan and determine if RADIESSE® is right for you.
Immediate volume correction that lasts:
Quick in-office treatment
Enhances the appearance of aging hands*
In most San Francisco patients it can last up to one year.*
Clinically proven safe and effective*
Rejuvenate the appearance of your aging hands by restoring volume with RADIESSE®.* Contact Dr. Kaplan at his office in San Francisco at 415-923-3005 to book a consultation today!
Click here to check pricing on Radiesse for the hands.