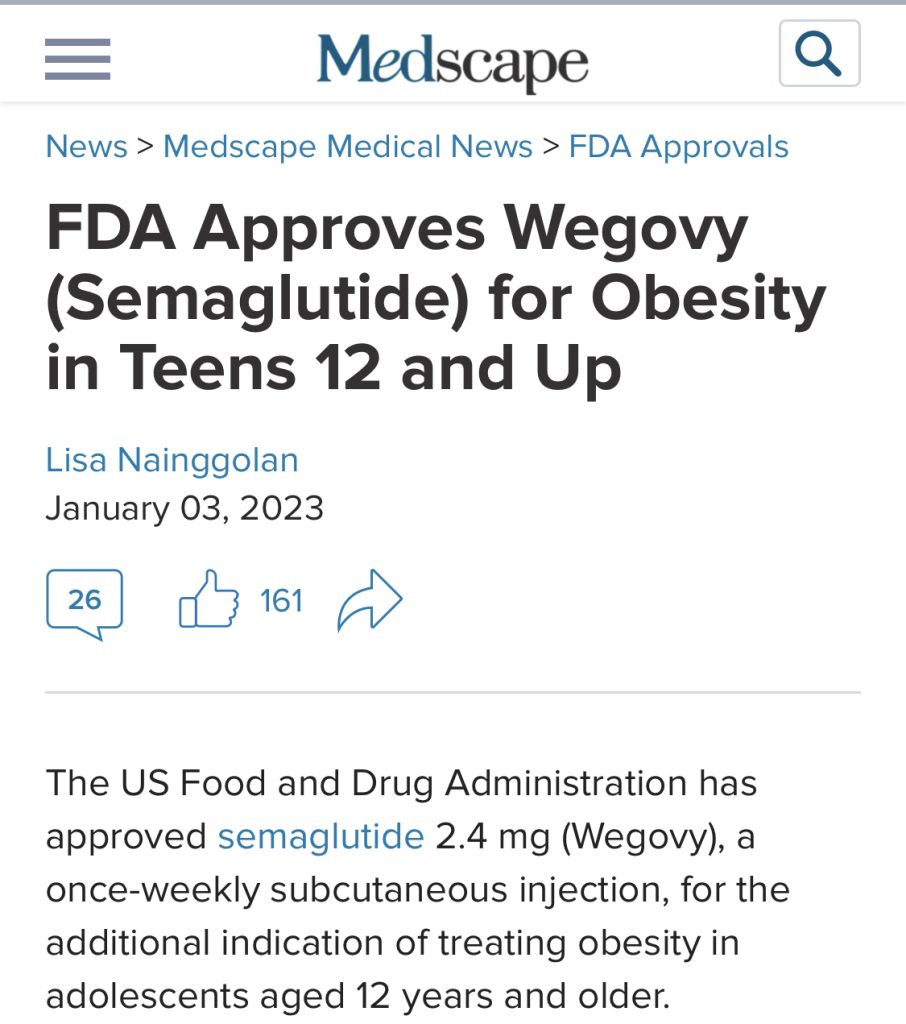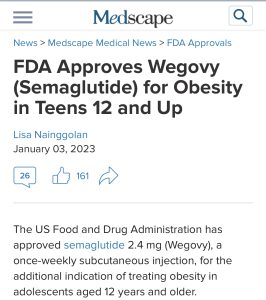 As we've discussed here before, we have a weight loss program in our practice that offers patients semaglutide (the active ingredient in Ozempic and Wegovy) and tirzepatide (the active ingredient in Mounjaro). Currently, most of the patients in our program are adults, ie anyone 18 and older. But did you know that Wegovy is FDA-approved in kids 12-17? You can also read about it here.
Incretin Mimetics
All of these medications are part of the class of drugs referred to as incretin mimetics. They mimic naturally occurring gastrointestinal hormones such as glucagon-like peptide (GLP-1) and gastric inhibitory peptide (GIP) that suppress appetite after eating and stimulate the release of insulin from the pancreas. That's one of the reasons these were originally approved back in 2005 under the name Byetta to treat type 2 diabetes, the form of diabetes most attributed to obesity.
Approval for type 2 diabetes and obesity
In the process of treating type 2 diabetes, the injectable medications were found to also result in weight loss. For example, Ozempic, first approved in 2017 for type 2 diabetes, was so effective at reducing weight that it was approved specifically for obesity under the name Wegovy in 2021. The active ingredient in both of these medications is semaglutide. We source our semaglutide from a compounding pharmacy because they're 1) more readily available than the name brand drugs that are currently on the FDA shortage list and 2) they're substantially less expensive than the name brand drugs.
According to the Wegovy website, patients on the medication during the 68 week trial (1 year and 4 months) lost 15.1% of their body weight, the equivalent to approximately 35 pounds. These results were based on adult participants in the study.
Kids and Obesity Drugs
A similar study was undertaken in kids ages 12-17. And the results were similarly stunning. "…adolescents with obesity treated with semaglutide for 68 weeks had a 16.1% reduction in BMI compared with a 0.6% increase in BMI in those receiving placebo. Both groups also received lifestyle intervention. Mean weight loss was 15.3 kg (33.7 lb) among teens on semaglutide, while those on placebo gained 2.4 kg (5.3 lb)." Based on this data, Wegovy is now FDA-approved in kids ages 12-17.
Prior to Wegovy's approval for childhood obesity, there was another medication available. Saxenda, also an incretin mimetic, was approved for obesity with the active ingredient liraglutide (and previously approved for type 2 diabetes under the name Victoza) as a daily injection. So while there was a medication available previously for obese adolescents, the ability to switch to a weekly injection in the form of Wegovy will be a huge improvement.
Our Program for Kids
Similar to our program for adults, we are now welcoming kids ages 12-17 to apply for our weight management program. While there is a required coaching program during the first 6 months of treatment ($1199), the monthly medication/prescription cost is significantly reduced to $250 every 28 days.
The $250 will go towards the actual medication in the form of semaglutide that we get from an FDA designated "outsourcing facility" that abide by current Good Manufacturing Practices (cGMP) and sources their ingredients from a USP manufacturer approved by the FDA. Or if you can get the medication approved by insurance or Medi-Cal, which is unfortunately unlikely, then we'll provide you with a prescription each month for the same price.
We are now accepting applicants. Start the process by paying for ($100) and scheduling a consultation (virtual or in-person) here. After the consultation, you can move forward by paying for the balance of the coaching program ($1199 – $100 consultation fee = $1099). At that point, we'll send you a bluetooth-enabled scale, a journal and order baseline labs which can be drawn in our office or at a LabCorp of your choice.
Once labs are reviewed, the monthly subscription to the medication/prescription can be purchased here at this special link for kids at the reduced rate.
Any questions? Please reach us via email at [email protected] or call/text 415-923-3005