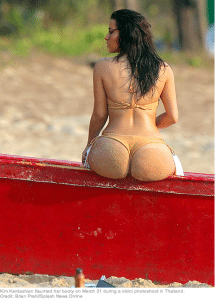 I have a pricing page on my website that allows consumers to add any cosmetic procedure of interest to their "wishlist" and after entering their name, email address and phone number, they're instantly provided a breakdown of costs for those procedures before coming in for a consultation. So in my office, patients don't have to experience "sticker shock!" Also, I receive a copy of their wishlist so I know what consumers are thinking about. And right now, or at least over the last year, they're thinking more and more about the Brazilian Butt Lift.
The Numbers
Regardless of whether it's Kim Kardashian or J. Lo, they're thinking about big butts and in a big way! After reviewing the wishlist statistics for my practice since moving to San Francisco a little over a year ago, this is what I've found. After receiving 929 submissions/wishlists for all types of procedures (facelift, Botox, breast augmentation, Brazilian Butt Lift), the buttock enhancing procedure has garnered 9.6% of all procedure requests. If you focus on just the "Body Contouring" procedures that patients are interested in such as liposuction, tummy tuck or CoolSculpting, the Brazilian Butt Lift accounts for 21.5% of all body contouring pricing requests!
For a single procedure to account for almost 10% of all cosmetic procedure interest is pretty significant. And of course it's over 20% when considering only the procedures that involve contouring and reshaping your body after pregnancy or weight reduction surgery. If you too want to know the cost of a Brazilian Butt Lift from Dr. Kaplan, click here!
Click here for the original blog post written by Dr. Jonathan Kaplan for BuildMyBod.