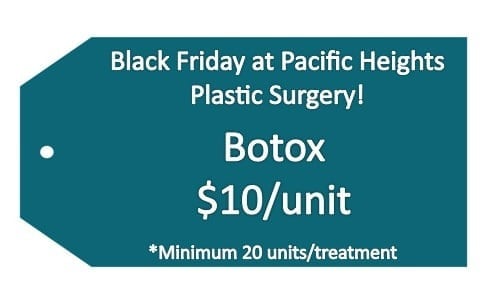 Today is the day! After you leave Target at 8am, come by Pacific Heights Plastic Surgery and take advantage of our own Black Friday Deal! We are offering Botox at $10 per unit rather than the regular $14 per unit. In case you don't know, Botox is perfect for the wrinkles in between the eyebrows, the forehead or around the eyes (crow's feet).
You'll need a little Botox to treat those wrinkles after the frustration of fighting crowds for other black Friday deals. Or maybe you're staying at home and waiting for Cyber Monday and ordering everything online? In that case, you have two options. You can still call and purchase Botox for $10 per unit (prepay!) and use it when it's convenient.
For all of the other days, you can also purchase Botox online whenever you want. Just go to our online marketplace by clicking here and you can "Buy Now," any of the non-surgical services that we offer. It doesn't matter whether you've been naughty or nice. Everyone is welcome here at Pacific Heights Plastic Surgery!
We look forward to seeing you soon!