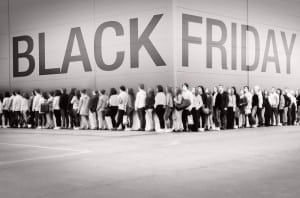 Did you brave the crowds on Black Friday and find the best deals out there? If you didn't you may not be alone. According to the National Retail Federation, Black Friday shopping was down by about 11% from last year. According to the NY Times, the analysts are at a loss for why this happened.
After predicting the economy had recovered and this year's Black Friday would be one of the best in recent memory, consumers apparently felt differently than the analysts. For the first time, I ran a Black Friday Botox deal which was very successful. Maybe it's uncommon for a plastic surgery practice to offer a Black Friday special, but it did catch the eyes of my current and former patients. Black Friday "shoppers" kept us busy the day after Thanksgiving!
Some theories on why business was slower than expected for everyone else: I think consumers are becoming more sophisticated and recognize that many great deals will be available long after Black Friday has passed and especially after the insane crowds have thinned out. Not only do you have great deals available online, but retailers will release new specials and markdowns as Christmas approaches.
From a cosmetic surgery perspective, business is good during the holiday season due to consumers being out of school or on vacation from work. In fact, things are so busy during the holidays that I find everyone spends their disposable cash by the end of December and January is like hitting a wall. Interestingly, the winter tends to be slow but consumer spending on cosmetic procedures begins to thaw right about the time consumers receive their refund checks in April!
Will you be spending on cosmetic procedures this holiday season?
Click here for the original blog post written by Dr. Jonathan Kaplan for BuildMyBod.