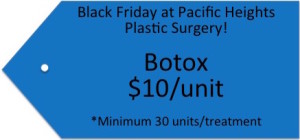 In case you missed our most recent e-newsletter, we have quite a few Black Friday deals for purchase on Friday at Pacific Heights Plastic Surgery.
As you can see, we're offering Botox for $10 per unit with a minimum of 30 units. So you can treat in between the eyebrows and along the forehead lines at the very least. And if you wanna treat the crow's feet, it won't cost much more!
We'll also be offering a BOGO on Radiesse. That's buy one Radiesse syringe and get one free! Normally this would cost $1700 but on Black Friday it's only $850. Radiesse can be used to plump up the cheekbones or provide a more youthful look to the back of aging hands.
Juvederm Voluma, FDA approved for volumizing the cheeks will also be part of our Black Friday deals. If you buy two syringes of Juvederm Voluma, which is the normal amount to treat the cheeks, you'll receive a free syringe of Juvederm Ultra Plus, a $700 value for free. Juvederm Ultra Plus is best used to fill in the parentheses or smile lines.
Aside from 20% off all skin care products and lash-growing Latisse, you can also get 20% off CoolSculpting when more than two spots are treated on the arms, bra chub, abdomen, flanks and inner thighs. If you purchase filler at the same time as CoolSculpting, you'll get another $100 off the filler of your choice.
While your purchases never expire, the promotional value needs to be used by the end of this year. What does that mean? It means that if you buy the BOGO Radiesse, your $850 will always be "good" for one syringe. But to get the 2nd syringe for free, please come in a get treated by the end of the year.
To clarify, you don't have to get treated on Friday…just purchase your Black Friday deals by the close of business on Friday and get treatment before the end of the year to take full advantage of these great deals. If you have any questions or want to schedule an appointment, call us at 415-923-3005 or book online here.