I don't want to upset the Yelp gods by writing this post but what gives?! Seven months ago I took over Pacific Heights Plastic Surgery and when I did that, I also took over the social media, website and Yelp page for the practice too. The practice was previously headed by Dr. Donald Brown and now the baton has been passed to me. At the time I assumed the practice, there were only 2 reviews for the practice posted on Yelp. But there were 55 "filtered" reviews, meaning they weren't quickly visible to the consumer. What does this mean? Read on.
For those of you that live in a city not dominated by Yelp, Yelp is a review website. Consumers visit a restaurant or call on a plumber and depending on their experience, the restaurant or plumber will get a 1 to 5 star review. Since so many people use Yelp to determine where they'll go for a Sunday brunch or where to get a haircut, a few bad Yelp reviews can make or break a business. Especially a new business – which is what I consider myself since taking over this practice 7 months ago.
One thing that separates Yelp from other review sites is how they determine which reviews to post or not. Some websites allow anyone to write a review and then the business owner can determine to allow only the good posts and none of the bad posts to show up on the website. Some sites allow any review to be visible after it's written (other than profanity). This way, good and bad reviews are posted. The bad reviews are certainly painful to the business owner but if they're constructively written, they can be the appropriate motivation to improve your customer service. Yelp does things a little differently.
They use an algorithm to automatically "filter" reviews, good or bad. This means that based on what Yelp thinks is a credible review, they can remove the post and put it in the "not recommended" area of the website. 'Not recommended' doesn't mean the consumer feels the establishment is bad or that they don't recommend it. 'Not recommended' in this instance means that Yelp doesn't recommend this review because, according to their algorithm, they can't say whether this is a credible review or not. So what makes a review credible or not? That's up for debate but a few things that most agree on is that Yelp determines a review is not credible if it's the first review ever written by that consumer. Also, Yelp appears to cross reference the reviewer's profile on Facebook and if the reviewer is friends with the business owner, that review will be filtered as well. What exactly goes into the algorithm is a secret but here's video that explains it further.
So back to my Yelp page. When I took over, 2 reviews from the previous doctor were visible. But 55 other reviews had been written about the previous doctor and all of these were posted on a "not recommended" page that most Yelpers will never see. Since I arrived, I've had 5 additional reviews but these too have been filtered. If some were bad reviews, it wouldn't bother me too much but they're actually all good reviews! Over the weekend, another consumer posted a 5-star review for my practice. So far it's still posted along with the 2 posts from the previous doctor. Only time will tell whether that 3rd review (see below) will stay or if it will go the way of the other, now SIXTY, filtered reviews?! [see update below]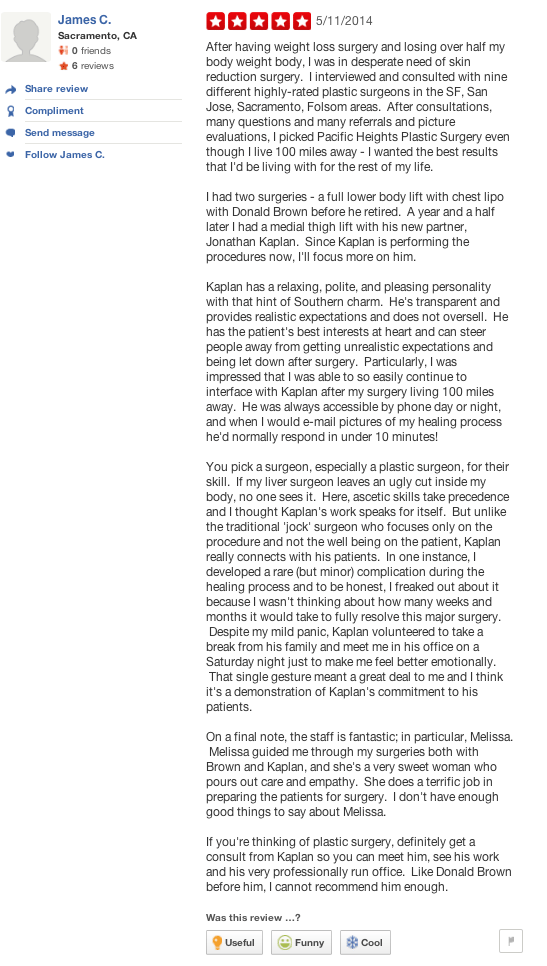 Well, 5 days after this review above was posted on Yelp, it has officially been filtered! That's right, it's been moved to the "Not Recommended" page of Yelp and so now, all of my 6 five-star reviews have been filtered and I'm only left with the 2 reviews written about the previous doctor of the practice I took over! Hopefully, in time, some new reviews will start to "stick"!
Click here for the original blog post written by Dr. Jonathan Kaplan for BuildMyBod.