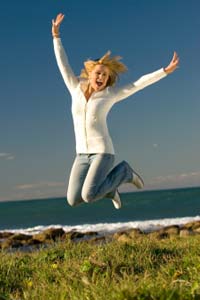 You may have some concerns about undergoing breast augmentation surgery—the cost, the recovery time, etc.—but according to a new study published this month, there's one thing you shouldn't be worried about: whether you'll be happy with the outcome. Why? Because 98 percent of women surveyed said that the results of their breast augmentation surgery met or exceeded their expectations.
The study was conducted by Dr. Eric Swanson, a plastic surgeon with a private practice in Kansas. To collect his data, Dr. Swanson evaluated 225 consecutive women with an average age of 34, interviewing each of them at least one month after their procedure. (Most patients surveyed received saline-filled breast implants, placed under the muscle, and their average implant volume was 390 cc.) In these interviews, he asked the patients questions about their recovery experience, how they felt about their results, whether they had experienced any complications post-surgery, and what kind of psychological effects the procedure had upon them. All in all, the study took five years to complete.
The result? 85 percent of the patients said that their new breast size was "just right"; 75 percent said their breast firmness was "just right"; only 1 percent said they were unhappy with their scars; and nearly all of the women interviewed—98 percent—said that the results had met or exceeded their expectations.
Not all plastic surgeons are equal, of course, and the results of this study come from patients who went to the same doctor—so it's important to take the data above with a grain of salt. As a plastic surgeon with over thirty years of experience and hundreds of breast augmentation surgeries under my belt, however, I firmly believe that my own procedures meet the same high standards Dr. Swanson's appear to. If you'd like to learn more, call my office at (415) 923-3005 and set up a consultation!