Now that I've been here in San Francisco and specifically living and working in the Pacific Heights neighborhood, I'm starting to find and discover new favorites. From a favorite burger joint, sushi bar, restaurant to a favorite park. I recently had a patient new to the area and they asked for my thoughts in regards to great places in Pacific Heights that I'd recommend. I hope you enjoy the following recommendations!
Favorite Margarita/Daquiri
New to SF this spring, the Palm House makes a mean margarita. Keep it simple or opt for the mango with chipotle infused tequila house special. Pair it with their award winning "Puerto Rican Smashed Avocado."
Favorite Burger
Roam makes burgers like no other. Between the veggie, bison, beef, and turkey, I promise you, you won't find a better patty! The "house sauce" is just enough that you don't even need to add ketchup. Gluten free or paleo? No problem! They offer gluten free buns and crispy lettuce wraps in lieu of a traditional bun.
Favorite Brunch
Curbside Cafe never ceases to impress when it comes to brunch. The omelets are loaded with fresh veggies and cheese, but they take French Toast to a whole new level. Bourbon-baked baguette served with maple syrup. Need I say more?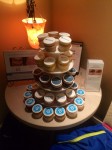 Favorite Cupcake Shop
If you're craving a sweet treat, look no further! Sift Cupcakes are DIVINE. From salted caramel frosting, to luscious red velvet cake, to heavenly butter cream and vanilla, you cannot go wrong. Those of you who attended our Grand Opening may have had the pleasure of trying one of the cupcakes Sift Cupcakes custom designed for us.
Favorite Place to Get a Haircut
You are always in a good mood after leaving the Red Chair Salon! Not only do they have you looking your finest before leaving the premises, but the staff is friendly, smart, and fun to bounce business idea off of. I'm a huge fan of their online booking capabilities.
Favorite Pet-Friendly Bar
The Bus Stop is one of the most laid back and friendly neighborhood bars I have ever been to. Not only are they pet friendly, but they also encourage you to order food for delivery to the bar. We've sat back and relaxed and enjoyed various sporting events all while chowing down on some of Dino's "Olivia" pizza.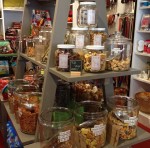 Favorite Pet Boutique
George has one of the largest assortments of dog treats in the area. It's like a candy shop but instead of scooping jelly beans, skittles, and jaw breakers into your paper baggie, you choose between duck fillets, freezer dried lamb, peanut butter bites, and rawhide. Your dog will love you even more if you bring him or her in for a treat.
Favorite Restaurant Patio
Ottimista hands down has the warmest patio around. If the fog rolls in but you're in the mood to sit outside or you just cannot resist leaving your dog at home, this is the perfect spot for you. Choose between specialty cocktails, artisan appetizers and a nice assortment of entrees, or jump straight to the dessert menu.
Did we forget someone? Please comment below if you have other "can't miss" recommendations.