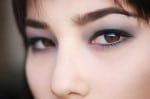 Many Asian men and women are born with eyelids that have only a faint crease in the upper lid, or eyelids that have no crease whatsoever. On some people, this can give the lids a heavy look—especially since eyelids without creases often have a small fold of skin that hangs down over the eye. This fold can also make the eyes seem smaller than they are.
Double eyelid crease surgery—also referred to as "Asian" blepharoplasty—is a cosmetic surgery that creates a natural looking, well-defined fold in the upper lid for those who don't have one. The procedure opens up the eye area, getting rid of the heavy-lidded look, and can also make makeup application much easier for female patients.
I am able to perform all double eyelid operations with minimal incisions. For patients who do have a faint crease, but one which has been obscured by fatty deposits in the eyelids, I can remove the excess fat and skin in the area to give the fold more definition. My goal with all of my patients is to create natural-looking results that do not interfere with the innate, distinctive characteristics that you wish to preserve about your features.
If you're interested in learning more about Asian double eyelid surgery, please set up a consultation at my offices!