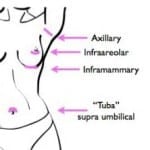 When performing breast augmentation surgery, a plastic surgeon has a choice between four types of incisions: transaxillary, periareolar, inframmary, and transumbilical (TUBA). Various factors determine which one he or she chooses to use, including body type, breast size and shape, and a patient's esthetic objectives. I think it's important for patients to understand the pros and cons of these different incision types—so, over the next few weeks, I'll take an in-depth look at each one.
Today's topic: the transaxillary incision.
The Transaxillary Incision
A transaxillary incision is made in the armpit, in the natural fold that exists there. Once the incision has been made, a channel to the breast is created, and a pocket is made behind the breast for the implant. Both saline and silicone implants can be used in this method, but most plastic surgeons prefer saline; unlike a silicone implant, which is pre-filled, the saline implant can be inserted as an empty shell and filled once it's in place, which means the incision can be kept quite small.
The main attraction to transaxillary incisions seems to be the fact that they leave the breasts looking untouched—that the scar is far away, under the armpit. For someone who is still planning to have children and hopes to breastfeed, this technique can also be appealing because it's less likely to damage the mammary gland than are inframmary or periareolar incisions.
The biggest downside to transaxillary incision is the fact that the incision location can only be used once—if breast implant revision is needed down the line, new scarring will be incurred. There is some risk of nerve damage in this procedure as well, especially if your surgeon performs the procedure blind (without the aid of an endoscope), which could lead to some numbness in the arm or hands. Achieving breast symmetry with this procedure can also be more challenging than with other incision types, since your surgeon does not make the incision directly on the breast.
Next week: the periareolar incision.