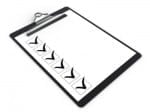 As you may recall, I wrote a post in December on the dangers of unaccredited plastic surgery practitioners; today, I'd like to discuss not what you shouldn't do, but what you should do when you're seeking out a cosmetic surgeon.
To do so, I'm borrowing from a checklist created by the American Society of Plastic Surgeons (ASPS) to help patients achieve a successful partnership with their plastic surgeons, with a few tweaks.
Without further ado, here it is—my list of top 10 questions to ask your prospective plastic surgeon:
1. Are you certified by the American Board of Plastic Surgery?—depending on the situation, you may not want to merely take someone's word for it; it's okay to ask for physical proof.
2. Have you been fully trained in the field of plastic surgery, and for how many years total?—this is especially relevant in light of recent cases where individuals who had MDs but were not trained plastic surgeons botched procedures they were not qualified to perform.
3. Do you have hospital privileges to perform this procedure (and if so, at which hospitals?), or Is your private surgical facility accredited by a nationally- or state-recognized accrediting agency, or is it state-licensed or Medicare-certified—an unaccredited facility is an unregulated facility. Don't undergo a procedure in one!
4. How many procedures of this type have you performed?—plastic surgeons have different specialties; a surgeon who is excellent with breast lifts isn't necessarily as skilled with rhinoplasty. Experience is a good indicator of skill.
5. Am I a good candidate for this procedure?—a good plastic surgeon won't agree to perform a procedure on you unless you're a good candidate; still, it's safer to ask up-front whether you are (and you can always ask your doctor to explain why you are, too).
6. Can you walk me through what will happen on the day of my procedure—where it will be and how you will do it?—you have the right to know exactly what you should expect on the day of your surgery; ask your plastic surgeon to explain it. If you're not satisfied with their explanations, don't undergo the procedure.  
7. What will my recovery be like, and what arrangements do I need to make for myself before undergoing my procedure?—an experienced plastic surgeon should be able to tell you exactly what you can expect during your recovery period, and what you'll need during that time.
8. What risks and complications are associated with my procedure, and what do I do if any of them happen to me?—there are always risks and complications when it comes to surgery; it's important that you understand them ahead of time.
9. What are my options if I am unhappy with the outcome of my surgery?—a plastic surgeon's responsibilities to you don't end once they've performed your procedure; make sure they're clear about your options, and that they'll be there for you throughout the entire process.
10. Do you have before and after photos I can look at for each procedure?—as I've mentioned before, before and after pictures are an excellent way of determining your surgeon's skill level. If they don't have any photos, you should seriously consider going to someone else!