This recent article on Yahoo about the harmful effects of smoking on the face has been cited quite a bit. It highlights a long running study from the Twinsburg, Ohio annual party that brings twins together. A plastic surgeon in Cleveland who runs the study has been taking photos of twins at the annual get-together for many years now to track the differences in how the twins age. And based on the photos reproduced here from the Yahoo article, it's clear that smoking takes its toll.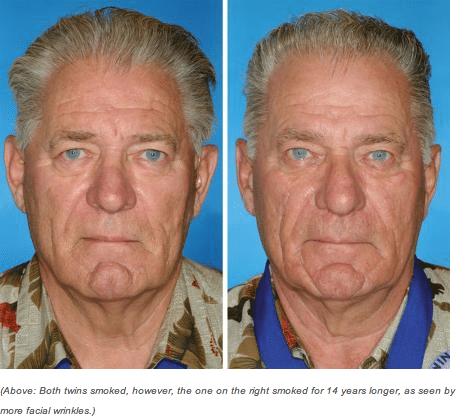 Obviously it's best to never start smoking in the first place so you can avoid these premature wrinkles but what if you already started and ultimately quit, but still have more wrinkles that you'd like? Treatments like fillers such as Belotero, Juvederm and Radiesse can help with the deeper parentheses lines that extend from the nose to the corners of the mouth but most smokers or former smokers have more stubborn lines than that.
For example, one of the most common complaints of smokers are the wrinkles right around the mouth. Often they are even called smoker's lines. The best treatment for these types of lines in my opinion is a deep chemical peel. And I'm not talking about the peels an aesthetician does, although those are great for fine lines and maintenance of healthy skin. I'm talking about a phenol-croton oil peel. No laser or lesser peel will get rid of those smoker's lines as well as a phenol-croton oil peel. Just take a look at these results from a former smoker:
Be sure and find a board certified dermatologist or plastic surgeon for your deep chemical peel!
Click here for the original blog post written by Dr. Jonathan Kaplan for BuildMyBod.?