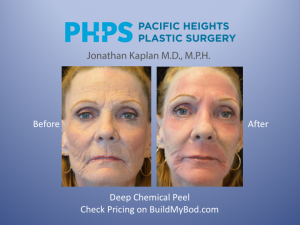 When your doctor or aesthetician talks about skin resurfacing, they're talking about several things at once. They could be talking about skin resurfacing by scraping away dead skin with a dermabrasion machine. They could be referring to a laser. Or they're meaning a chemical peel. And even when you talk about a chemical peel, that could mean a superficial trichloroacetic acid (TCA) peel or a deep chemical peel. If you want the results of the patient above, then you'll need a deep chemical peel.
Why a deep chemical peel for skin resurfacing?
With deep wrinkles, the idea behind skin resurfacing is to get deep enough that you remove the wrinkle to its foundation. That means going past the epidermis and down into the upper to the middle layers of the dermis. That's pretty deep and the risk is that if you go too deep, you could cause permanent scarring. A phenol croton oil deep chemical peel is a great peel and the one used in the photos of this patient. It went deep enough to remove wrinkles around the eyes, mouth and forehead.  
  The downside to using such a deep peel is that it takes one to two weeks for the peeling to complete and then you're left with a red face for about three months (you can cover this with makeup during those three months). Doctors who own lasers will tell you the recovery is shorter with a fractional type of laser. That is true. But really deep wrinkles don't go away with a fractional laser.
How time of recovery is linked to depth of treatment
This is the thing: time of recovery is linked to depth of treatment. If you want to get rid of a deep wrinkle, you have to go down further in the dermis. When you go down further in the dermis, the skin takes longer to heal regardless of the technique used.  
  So when a doctor claims you'll heal faster after a laser skin resurfacing, that's fine and dandy if you have superficial wrinkles. Because the depth of treatment isn't as deep, the skin will recover faster. But if your wrinkle is deeper than what the laser can treat, you'll be coming to me for a deep chemical peel!     To check pricing from Dr. Kaplan for a deep chemical peel, click here.   Click here for the original blog post written by Dr. Jonathan Kaplan for BuildMyBod.