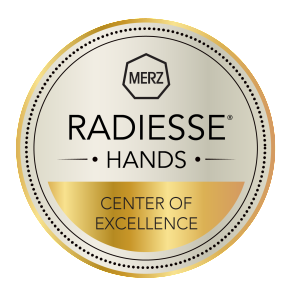 RADIESSE®, the first and only dermal filler approved by the FDA for correction of volume loss in the hands, is now available from Dr. Kaplan and Pacific Heights Plastic Surgery – a Radiesse for Hands Center of Excellence!
RADIESSE for hands provides an immediate volumizing effect and can help to reduce the prominence of tendons and veins in the hands , delivering smooth, natural-looking results that can last up to 1 year. Treating the hands with RADIESSE is a quick in office procedure that can usually be completed in 10 minutes.
In a randomized, controlled US trial, blinded evaluators reported that RADIESSE for hands improved the appearance of both hands in 75% of treated patients at 3 months. Importantly, 98% of treated patients also reported improvement in the appearance of their hands at 3 months. Improved aesthetic outcomes as measured on the Global Aesthetic Improvement Scale (GAIS) after initial and repeat treatments correlating with clinical improvement were demonstrated in this study, with all primary and secondary endpoints being met.
Most adverse events were injection site reactions such as swelling, redness, pain and bruising, which were usually mild to moderate, short in duration (lasting about 1 week), and required no treatment. No severe device-related adverse events were reported that required treatment. To learn more, click here.
Radiesse for Hands
To check pricing for Radiesse for Hands, click here.
Click here for the original blog post written by Dr. Jonathan Kaplan for BuildMyBod.