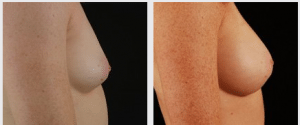 When you are getting ready for breast augmentation surgery, planning for the days following the procedure is just as important as planning for the days leading up to it. Here are some helpful things to know about what post-op care for breast augmentation looks like:
You will be able to go home right after surgery, but that doesn't mean you will feel good – in fact, you'll probably be tired and a little groggy for one or two days. It is also normal to experience swelling, redness, and discomfort in your chest area for between one and two weeks following the procedure, as the incisions begin to heal and your body starts getting used to your new implants. You will be prescribed some oral pain medication to keep the discomfort at a manageable level. You should not shower in the first 24 hours after surgery-your bandages need to be kept dry for that long—but after that, showering is fine.
It is crucial to avoid pushing your body too hard while you're in recovery from breast augmentation. It is good to get some low-level exercise, like walking around the house (which reduces the likelihood of forming blood clots), but you shouldn't be doing any heavy lifting or participating in any strenuous activities (running, bicycling, or dancing, for instance) for at least a couple of weeks after surgery. You will probably want to take around 3-5 days off of work. Staying hydrated, making healthy food choices, and avoiding sodium can also help to hurry the healing process along. Be sure to take your medication the way it was prescribed-and if you develop a temperature or excessive pain or redness in the days after your procedure, call your doctor immediately!
I hope that these tips on what to expect from your recovery will not only help you to heal properly following your breast augmentation surgery, but will make you more relaxed and comfortable while your body rehabilitates itself. If you have any further questions, feel free to contact me at (415) 923-3005 to schedule a consultation!