Since I'm relatively new in San Francisco (only 4 months!) and taking over Pacific Heights Plastic Surgery now that the previous helmsman, Dr. Donald Brown, is sailing off on a medical mission trip, I want to be sure and keep the practice thriving. Luckily Dr. Brown has many loyal patients that trust his judgement in bringing me on, but just to be safe, I want to let as many new patients learn about what Pacific Heights Plastic Surgery has to offer.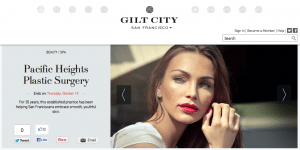 Enter, Gilt City. This is similar to Groupon or Living Social in that it's a website that offers specials on various products, including non-surgical cosmetic procedures. But it's very dissimilar in that Gilt City doesn't take such a large commission so that you can't even cover the cost of the Botox/Xeomin, Juvederm/Belotero or whatever product you're selling. My goal is to provide excellent service at a reduced rate to attract more patients but still have enough left over to pay the utility bill! With Groupon and Living Social, that's just not possible since they take 50% of whatever income you receive (essentially you make half of what it cost to buy the product – that's a 50% LOSS)! I know no one is losing sleep over a plastic surgeon taking a 50% hit but really, regardless of sympathy, the fact is you can't run a practice or any business with 50% losses.
So Gilt City provides a great deal for the consumer and a productive, yet financially viable, introduction to new patients. With the great deals available, the number of phone calls that a practice or business receives after running a "daily deal" can be overwhelming. The phones are ringing off the hook which is great unless you don't have enough staff to schedule these folks without leaving them on hold for a long time. As detailed in this article, having too many callers is not unique. It appears to be a problem for most businesses participating in daily deals.
This is when I made a critical discovery. If there was a way to help these customers schedule their appointment, other than waiting on hold, it would solve a lot of customer service problems. As I was contemplating this after our Gilt City promotion started, I began to notice an influx of patients booking appointments through our online booking service developed by STX Software. It made so much sense! Consumers that purchase specials or deals on the internet are by nature, computer savvy. Therefore, online booking, the ability to NEVER have to call the doctor's office and still schedule an appointment, is so obvious! For computer literate clientele, it's a user-friendly experience that is a huge patient satisfier.
And while I made this discovery on accident, Groupon apparently recognized this problem as well. The Groupon Scheduler is their answer to minimize the crush of phone calls brought on by deal sites. I checked out their online booking system and I'm happy that I fortuitously chose the STX system already. The STX system has so many other bells and whistles that streamline my practice like never before.
So while most businesses may fear the bottleneck at the front desk answering too many phone calls associated with daily deals, I say "bring it on" with online booking!
Click here for the original blog post written by Dr. Jonathan Kaplan for BuildMyBod.?