The quest for all things non-invasive continues! Just as CoolSculpting has allowed patients to have non-surgical fat reduction of the love handles, saddle bags and arm wings without liposuction, Living Proof ® Neotensil™ now offers the appropriate patients non-surgical correction of lower lid bags.
Do you have lower lid bags under your eyes? This new material can be applied to the lower lids of patients to conceal their lower lid bags without surgery or needles. Not everyone is a candidate but if you are, you can hide those age-related bags with a polymer that shapes and conceals the fat under the eyes.
Living Proof ® Neotensil™ is available exclusively through any doctor that sells Obagi (that's me!). But understand that while this product can be very effective for the right patient, it only stays in place for a day so you would need to reapply as needed. If you're a newscaster or have an important meeting and want to look well rested, you could apply Living Proof ® Neotensil™ that morning and it will last all day. Another example of how this "as needed" product can be helpful is if you're in your 40's and you have an appointment with a 20-something tech founder. You'd be well served in applying this over your lower lid bags before your appointment!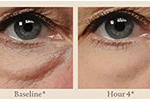 The beauty of Living Proof ® Neotensil™ is that on the days you don't need to look younger and refreshed, there's would be no need to reapply so you can save your dollars and allow your supply of Living Proof® Neotensil™ to last longer. Each package comes with 50 applications and will cost $500. Much less than surgery!
Hope that helps! Would you use Living Proof ® Neotensil™ before an important meeting?
Click here for the original blog post written by Dr. Jonathan Kaplan for BuildMyBod.