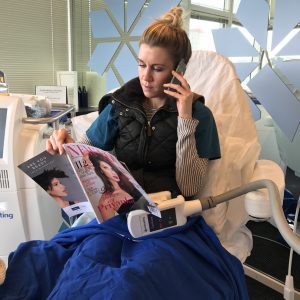 In this dog eat dog world, when everyone is in the rat race of their life, we all need to be as productive as possible. Even the time we're relaxing and tending to ourselves. Enter, the cosmetic clinic and medspa. While these may be a sanctuary of peace and quiet, they can also be a place where patients can multitask.  
What do we mean by multitask?
Sure we can give each patient the password to the wifi in our office so they can do a little work while getting their laser hair removal. Sustenance like a KIND bar, coffee or tea. But we're talking about a different type of multitasking to make their time more efficient. Create a space where patients can multitask and address as many of their concerns as possible.   A perfect example. We have two patients undergoing a mini neck lift in one day. Each patient decided to make their time more productive and get CoolSculpting (non-surgical fat reduction) after their neck lift. How genius is that?! They didn't want or really need liposuction to their abdomen. But they did have stubborn pockets of fat that were perfect for a non-surgical freezing.   In their case, they'll have their operation, we'll ensure they're stable in recovery, and then move them to the CoolSculpting room. Even more efficient because we have two CoolSculpting machines so they'll freeze twice the fat in half the time and be discharged home soon thereafter. Keep in mind that if they simply stayed in recovery or went home immediately, they would be doing nothing anyway so why not multitask and freeze some fat!   This process of having surgery followed by CoolSculpting isn't new. We've discussed SurgiSculpting® here before. It doesn't stop there though. Patients can get injections like Botox, Xeomin or Radiesse during surgery, laser hair removal or some other non-surgical service. It may sound like upselling, but if they want it and you offer it, why not perform these combination surgical and non-surgical services during the same visit. They'll thank you for the time you've saved them.   To check pricing on any of these services from Dr. Kaplan, click here.   Click here for the original blog post written by Dr. Jonathan Kaplan for BuildMyBod.