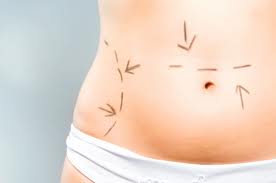 On the most basic level, the difference between a tummy tuck (abdominoplasty) and liposuction is that a tummy tuck is most useful in correcting loose skin and stretched muscles, whereas liposuction is useful only in getting rid of excess fat.
Most women who seek out abdominal plastic surgery do so after having children. Pregnancy takes a considerable toll on the entire body, but especially on the stomach area: it causes a widening of the muscles of the abdomen, and it stretches the skin there as well. Unfortunately, these are not things that the body is always capable of repairing on its own—sometimes sit-ups can't draw those expanded muscles back together, and sometimes the skin has been stretched too far for it to be able to snap back to its former condition after pregnancy.
In a tummy tuck, an incision is made in the lower abdomen to allow the surgeon access to the trouble areas you want to address. From there it's a simple question of stitching the abdominal muscles together to tighten them, then removing any excess skin and fat that remains. The result is a narrower waist and a flatter, tighter stomach. Though it will fade noticeably, the scar where the incision is made will never go away entirely—but it is so low on the abdomen that underwear or bathing suit bottoms will hide it easily.
Liposuction can do wonders if the problem you have with your stomach is not that it looks loose or droopy, but that it has pockets of fat that don't respond to diet or exercise. However, for most women who are unhappy with the state of their abdomen following childbirth, the real problem lies with the skin and muscles—and if that's the case for you, a tummy tuck is the only procedure that will get you the results you desire.