If you're considering "plumping" up your lips, you now have a choice in how you do this. I previously wrote about lip injections with Juvederm or similar type of filler. As I mentioned in that post, the benefits of lip injections is lower cost and the results are temporary if you're not happy. But the downside is that it's not permanent and therefore injections need to be repeated every 6 to 12 months. In that post, I also discuss the very reasonable concern of over-inflated lips, but with a qualified plastic surgeon and your involvement in the process, this can be avoided.

Luckily, there's a way to avoid repeated lip injections with permanent lip implants. This is a  procedure done under local anesthesia in the office. Once the procedure starts, it can  literally take 16 minutes for your plastic surgeon to perform. There are different sizes to choose from and your doctor can help you with this decision based on the current dimensions of your upper and lower lip. You'll never have to worry about getting another lip injection again! Also, because the implants are smooth and symmetrical, you don't have to worry about one side being bigger than the other, which is possible with lip injections.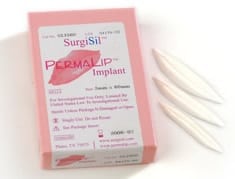 While these lip implants are made of silicone, it's a solid form of silicone, not a liquid. So you don't have to worry about the implants leaking like the older generation of silicone breast implants from the '90's. Now all you need is a board certified plastic surgeon near you to place your lip implants! To find a plastic surgeon and determine the cost prior to your consultation, click here. Thanks for reading.
Click here for the original blog post written by Dr. Jonathan Kaplan for BuildMyBod.