Well, it's finally here. I wrote about the impending approval of Juvederm Voluma in a previous blog post but now it's available right here in San Francisco.  For those of that are unfamiliar with Juvederm Voluma or want to learn more, continue reading.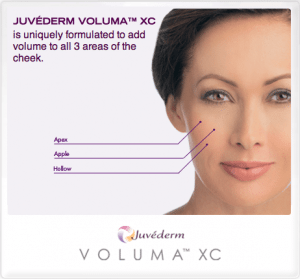 Juvederm Voluma is a new product from Allergan, the same company that brought you other wrinkle fighters like BOTOX Cosmetic and Juvederm Ultra. BOTOX Cosmetic treats the wrinkles caused by overactive muscles by relaxing those muscle for 6 months. Juvederm Ultra is a filler made of material similar to the fluid in your joints that fills lines like the parentheses lines that extend from the nose to the corners of the mouth. Juvederm Voluma, unlike a filler, is more of a volumizer. By injecting 2-4 syringes of Juvederm Voluma to the cheek bone region, it can provide enhancement to the cheek area, providing for a younger, more refreshed look.
Not only does it have the effect giving the cheek bones more projection, by filling these upper face area, it also gives a lift that can make the parentheses lines less deep and also improve the jowls along the jawline. You can see a six minute overview of Juvederm Voluma by watching this poorly produced video that doesn't have sound (I'm sorry, it's the best I could find until I produce my own video on the subject!) but if you have the patience, it does touch on some important points.
Again, Juvederm Voluma, will require 2 to 4 syringes for the best effect but it will last 2 years. The injection of Juvederm Voluma doesn't have to hurt! If you go to a doctor that can provide you with a dental block, a type of local anesthesia that lasts about an hour, you will enjoy the experience infinitely more. If your doctor says you don't need a dental block because the injection of any filler doesn't hurt that bad – find another doctor!
If you want to check out pricing on Juvederm Voluma here in San Francisco, click here. You can also check out Dr. Kaplan's comments on Voluma by clicking here or schedule an appointment online to see if Juvederm Voluma is right for you by clicking here.
Did this help?
Click here for the original blog post written by Dr. Jonathan Kaplan for BuildMyBod.?