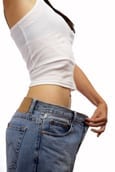 A study in this month's issue of Plastic and Reconstructive Surgery, the journal produced by the American Society of Plastic Surgeons (ASPS), has discovered something that many plastic surgeons (and plastic surgery patients) have know for a long time: liposuction and abdominoplasty procedures can greatly improve both your self-esteem and quality of life.
While this may seem obvious to those who have had a tummy tuck or other lipo-related work done before, this is actually big news within the medical community—mostly because this is the first time ever that patient satisfaction for these particular procedures has been formally evaluated.
Kansas plastic surgeon Dr. Eric Swanson, who authored the study, says he surveyed 360 patients (with an average age of 42) to assess quality of life and other outcomes about four months after they underwent either liposuction, abdominoplasty, or both. Of those, 86 percent reported increased self-esteem after surgery, and about 70 percent reported improved quality of life. The procedure that received the best patient reviews was the combination lipo/abdominoplasty—more than 99 percent of patients said they would recommend it to others, and the average score they gave the outcome was a 9 out of 10.
As I mentioned before, it's not entirely surprising that so many patients are happy with the results of their liposuction and abdominoplasty procedures; however, it is encouraging to have something that I know as a matter of experience quantified by a published study. Patient comfort and happiness is and always has been my first priority as a plastic surgeon—so it's gratifying to see just how high patient satisfaction with these treatments is!