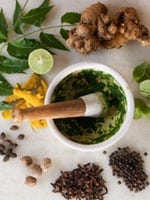 A new review from Loma Linda University that appeared in this month's issue of Aesthetic Surgery Journal suggests that the herbal products, teas, homeopathic medicines, and dietary supplements you're taking to improve your health may actually put you at risk when you're on an operating table.
Herbal remedies have become increasingly popular over the past few years as more people have discovered the beneficial effect they can have on their health; however, according to "Bleeding Risks of Herbal, Homeopathic, and Dietary Supplements: A Hidden Nightmare for Plastic Surgeons?," taking some of those same remedies—including commonly used ones like Chinese peony, garlic, ginger, ginkgo, ginseng, wintergreen oil, and saw palmetto—can increase the likelihood that you'll experience bleeding-related complications both during and after surgery.
The true danger here lies in the fact that many patients don't necessarily give their plastic surgeon a laundry list of every herb or herbal product they've been taking when they come in for their consultations pre-surgery—and not all doctors know to ask for it.
The authors of this review recommend that surgeons ask patients whether they're taking any vitamins, herbs, or supplements; what vegetables or plant products they have consumed in the past month; what types of teas they have been drinking recently; and whether they have ever taken any herbs or supplements in the past. If your doctor doesn't ask those questions, though, then you should be your own advocate and volunteer the information. If you're going to be undergoing plastic surgery (or any other surgery) in the near future, stop taking your herbal supplements between two and three weeks before you go in for your procedure, and wait to resume taking them until after you've healed, since they can cause bleeding even after you're off the table.
None of this, of course, is meant to suggest that herbal medicines and supplements are inherently bad for you—this review isn't passing judgment on their effectiveness, but rather on surgery-specific side effects that patients and doctors may not be aware of. If you love your ginkgo or ginseng, by all means, take them; just make sure you don't do it right before you come in for a breast augmentation or other surgical cosmetic procedure.