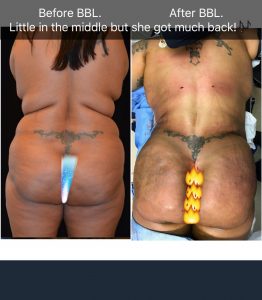 Sure losing weight and exercise is the responsible way to get a narrow waist. But what's the fun in that?! If you work out and still can't get the narrow waist you want, liposuction may be the answer. The best part is that you get so many other benefits with a narrow waist.
Liposuction, a narrow waist and a Brazilian Butt Lift
With very aggressive liposuction to the abdomen and flanks, you can create a narrow waist. Certainly you're limited by the width of your pelvis and abdominal cavity that contains your intestines. But if those structures are "cooperative" then, the fat layer can be reduced significantly with liposuction. In turn, the skin tightens and voila, you have a narrow waist.
Once you perform liposuction, all of that fat is injected back into the buttocks. Understandably, not everyone wants this. However, more people want to reuse and recycle their fat. Also, more patients want a bigger behind to keep up with the Kardashians! Using a sterile, closed system, your doctor can collect fat via liposuction and inject it right back into the buttocks.
"Butt" there's another key component to this operation. Liposuction to the front of the abdomen and flanks certainly contributes to the narrow waist. Additional liposuction just above the natural buttocks can narrow the waist even more. As seen in the photo, the reduction of the lower back with liposuction results in a narrow waist. It also makes the buttocks look bigger by comparison. Even if the doctor hasn't injected any fat into the buttocks or all of the fat eventually dissolves, the buttocks will looks bigger simply by making the waist narrower.
"Bottom" line (last pun), is that liposuction can give you a narrow waist, and so many other benefits. To check pricing on liposuction to the abdomen or a Brazilian Butt Lift from Dr. Kaplan, click here.
Click here for the original blog post written by Dr. Jonathan Kaplan for BuildMyBod.