Mommy Makeover transformations can dramatically change a patient's confidence and lifestyle. Here's my potentially not-so-controversial opinion: If you're even remotely considering plastic surgery, think of that as the first step to a lifestyle change. Doing so will not only contribute to having spectacular results, but you'll start instilling healthy habits to maintain those results long term.
Hear from one of our beloved patients:
"I'm so impressed and excited about the work that you are doing with the Weight Management program. Not discounting the incredible work that Dr. Bae and the team do in the surgery center, I credit a good portion of my recovery, results and current lifestyle to the weight loss and exercise that I did prior to any of my surgeries. Above all, I had the opportunity to create healthy habits that I've been able to stick to post-surgery, which took the burden of undoing any surgery off the table (no pun intended 😉).
None of this is easy – changing habits, weight loss, exercise, surgery, recovery, etc – but the support that you and the team have provided me throughout my journey is unmatched. Investing in my health has been the most rewarding and humbling experience and I never could have done it without y'all! Thank you for empowering me to find me 😊."
The proof is in the pudding: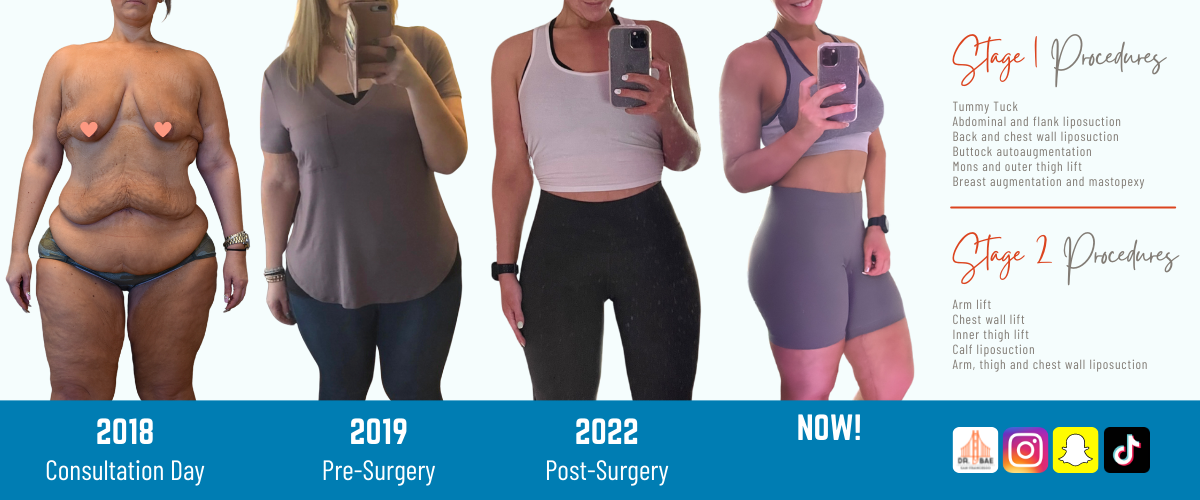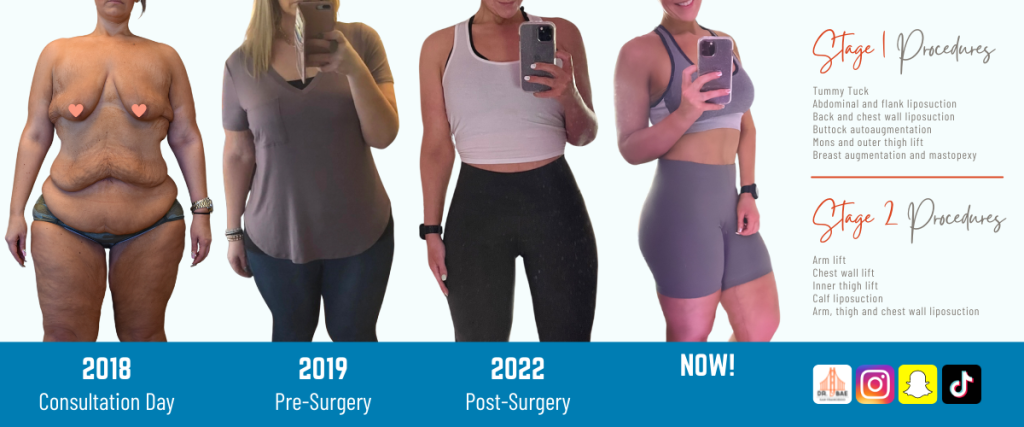 Let's talk about the elephant in the room
Lots of patients ask if they should lose weight before surgery… Or even if they should gain weight before their Brazilian Butt Lift! Instead, consider being in a healthy weight range (or close to it!) at the time you schedule your procedure. If you need diet and exercise to get there, putting in the work before the procedure contributes to better outcomes and patient satisfaction.
But that doesn't mean that you need do it alone. Exercise with friends. Make diet changes with your whole family. Get some fresh air and enjoy more time outdoors. Join a club. Dance!
Shout out to the Bae Lounge
If you still need more guidance and motivation, consider joining a Medical Weight Management Program like the one offered at Dr. Bae's Health and Wellness Lounge. The program combines medications with lifestyle coaching to give patients the tools to set exercise goals, make healthy food choices, and keep the weight off.
Keep it going
As our patient can attest, the healthy habits instilled before going under the knife translates to better surgical outcomes. There are so many benefits to being in good physical condition prior to surgery, including:
A healthy BMI decreases the risk of complications with anesthesia and intubation
Patients who are obese are at greater risk for surgical site infection and slower healing because of reduced blood flow in fat tissue. This impacts every incision, as well as fat transfers such as Brazilian Butt Lifts
High blood pressure and high blood sugar are more easily controlled
The fat removal maximum for liposuction is 5L, so being close to your goal weight will maximize your results
Patients tend to be happier with their results, because they're often more noticeable when at a healthy BMI
Recovery is typically faster and easier for patients in good physical condition
The ability to maintain your post-operative results is easier, since you have already established a health-centric lifestyle