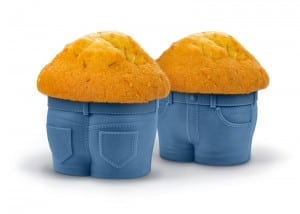 Do you look like these muffins in jeans?! Such a great photo – epitomizes the saying that a picture is worth a thousand words! The muffin top is a notoriously difficulty part of the flanks to hide when wearing jeans. You're not obese or even overweight but there's something about the excess fat in the love handle area that hangs over your jeans like a muffin top.
But no more! Now with non-surgical CoolSculpting, you can achieve permanent fat reduction in the love handle and other areas. CoolSculpting uses freezing technology to kill fat cells without surgery and with no downtime. It's as easy as going to your doctor's office and sitting on a comfortable recliner, watching TV, checking email and letting the time pass by.
In some offices where they only have one CoolSculpting machine, it may take two hours to treat the love handles and get rid of your muffin top. But with Dr. Kaplan at Pacific Heights Plastic Surgery (PHPS), DualSculpting is possible. This means that you can treat two areas at the same time and freeze twice the fat in half the time! PHPS is the only certified plastic surgery practice with two CoolSculpting machines offering DualSculpting to cut your treatment time in half in San Francisco.
To check pricing on CoolSculpting from Dr. Kaplan before the consultation, click here. And don't forget, PHPS is hosting a party at the Blues Jean Bar on 1827 Union Street in San Francisco from 6 to 8pm on Thursday February 12th, 2015. RSVP by calling 415-923-3005 or email us at [email protected] – 20% off CoolSculpting and jeans if you show up to the party!
Click here for the original blog post written by Dr. Jonathan Kaplan for BuildMyBod.