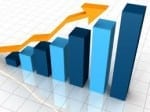 The American Society of Plastic Surgeons (ASPS) finally released their 2012 statistics last week! Despite a still-recovering economy, they found, 14.6 million cosmetic plastic surgery procedures were performed in the United States in 2012—5 percent more than were performed in 2011.
Zeroing in on the specifics of the study, it becomes clear that minimally invasive, nonsurgical procedures are virtually single-handedly responsible for the growth in numbers last year. Surgical procedures didn't decrease, but they didn't increase either; and ASPS President Gregory Evans says that this is actually "the third consecutive year" that this has been the case. Procedures like Botox, chemical peels, and laser hair removal keep getting more and more popular, but most surgical procedures are hovering in the same place they've been in for a few years now.
Evans speculates (and I agree with him) that the fact that more people are getting smaller procedures lately is reflective of the financial difficulties Americans have faced in recent years. People have less money to spend on what many would consider "luxury" procedures these days, and since cosmetic surgery is generally not covered by health insurance, more patients are opting for procedures that—while still effective—put less strain on their pocketbooks.
That's not to say that no one is undergoing cosmetic surgical procedures these days; almost 1.6 million were performed last year, in fact. And as the economy continues to improve, I have a hunch that the numbers will continue to rise.