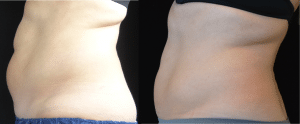 I continue to be amazed at the results of non-surgical fat reduction with CoolSculpting. For those of you who don't know, CoolSculpting is a 21st Century technology based on 1970's science. In the New England Journal of Medicine back in the 70's, doctors described kids that lost fat in their cheeks after sucking on popsicles.
Fast forward to 1999 and a company named Zeltiq started building a machine that could put that science to work. By 2009, Zeltiq released their CoolSculpting machine that uses an applicator to suck skin into the suction cup, and the fat in the skin is cooled until the fat cells "turn themselves off!" It's not the same as saying that the cold kills the fat cells because that connotes a situation of death and destruction leading to scarring. The cooling actually makes the fat cells turn themselves off so there's no scarring, not death in the way we think of death, and the fat cells are reabsorbed into the body and are excreted through the liver and kidneys.
Over the course of 2 weeks to 2 months, the fat goes away and the skin slowly conforms to the new inner you. That's how love handles go away and how tummy fat goes away as depicted in one of our patients shown above. It's a great technique to get rid of stubborn pockets of fat and avoids surgery such as liposuction. Liposuction still has its place but how nice is it if you don't actually have to resort to surgery!
Hope you enjoy the results and if you want to check pricing on Coolsculpting or other body contouring procedures, click here!