Back in 1970, a little known article was published in the New England Journal of Medicine, entitled Popsicle Panniculitis. Drs. Oren and Epstein noticed that children that frequently consumed popsicles had fat loss in their cheeks. Sometimes this fat loss even evolved into permanent dimples in their cheeks. The science behind the fat loss is that fat cells are more sensitive to cold than other structures such as skin, blood vessels and nerves.
Fast forward to 2008. Drs. Manstein and Anderson from Harvard advanced the idea of selective fat reduction as seen in popsicle panniculitis. In their experiments on pigs, they found that when lowering the temperature below body temperature but above freezing, fat cells undergo localized cell death without damaging other structures in the skin. Over the course of several months, the fat layer under the skin reduces in thickness. Based on ultrasound studies, the thickness of the fat layer is reduced by 20-25% when applying cold to areas such as the "love handles."
With this technology, Pleasanton-based Zeltiq (pronounced zel-teek) has developed the CoolSculpting device. This FDA-cleared device uses a powerful vacuum to draw the skin of the "love handles," "muffin top," or "saddle bags" into the suction cup and then two panels begin to lower the temperature of the fat-containing skin. The cold temperature then stimulates the fat cells to undergo a programmed cell death and over months, the dead fat cells are reabsorbed by the body and these localized areas of fat reduce in size.
While there is some temporary numbness, sensation returns over the course of days to weeks and over the subsequent 1-3 months, the patient will see results. These results are possible with only 1 hour of treatment, no need for anesthesia, no down-time or missed work. It may sound too good to be true but it does work. Check out these photos from the CoolSculpting website.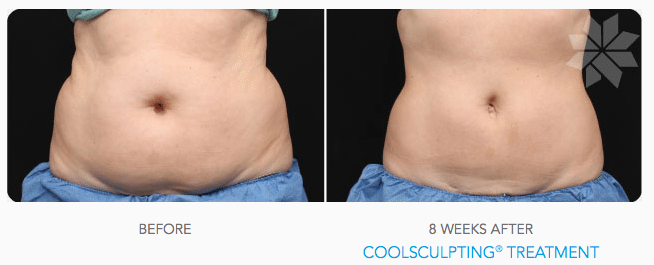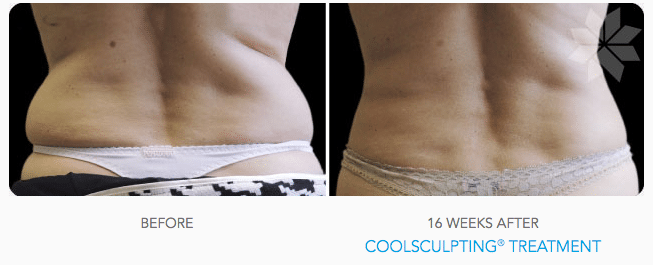 For CoolSculpting cost information click here or to schedule a free consultation to see if you're a candidate, click here.
Click here for the original blog post written by Dr. Jonathan Kaplan for BuildMyBod.