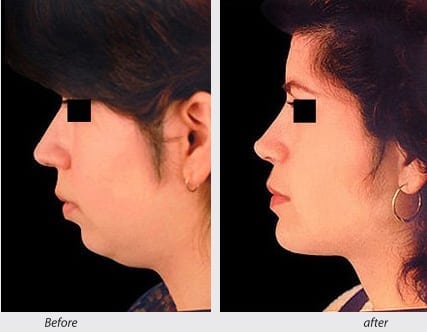 Did you know that the effects of chin augmentations and rhinoplasties are interrelated—and that many patients have the two procedures performed at the same time?
Weather you're aware of it or not, the way your chin looks has bearing on how your nose looks, not to mention on the overall symmetry of your face. A stronger chin can actually make your nose look smaller; a less prominent chin can make it look larger. That's why I often suggest chin augmentation to my rhinoplasty patients—because work on the nose alone isn't always sufficient to restore complete balance to your facial profile.
If you know for certain that you wish to pursue rhinoplasty, and you have a small chin, then it's worth considering having the two procedures done in conjunction with one another. I think you'll be surprised at how great a difference even a subtle change to your chin can make, especially in combination with a rhinoplasty.
If you're not sure you want to have anything done to your nose, however—but you do feel that your profile isn't as balanced as you like—then you could consider trying a chin augmentation first to see what kind of improvement you can achieve with that procedure on its own. I suggest this primarily because of how little downtime chin implants require in comparison to rhinoplasties; most patients can return to non-strenuous work as soon as 24 hours after chin augmentation surgery, whereas it usually takes at least seven days for patients to return to their dailiy activities after rhinoplasty. However, there is really no other benefit to undergoing a chin augmentation procedure before the rhinoplasty unless you are uncertain about proceeding with a rhinoplasty.
While a chin implant is certainly not a substitute for a rhinoplasty, it will make a noticeable difference—and the two procedures combined can have truly remarkable results. If you're curious to learn more about either of these procedures, don't hesitate give us a call and set up a free consultation!