What a year it's been for BuildMyBod! Here are a few highlights of 2013 and these aren't necessarily in order of importance, but rather chronological order.
We started out 2013 with our first annual pricing report. This was the first ever compilation of cosmetic procedure pricing from across the nation as reported by plastic surgeons themselves. Plastic surgeons have notoriously been very guarded about their pricing but in these economic times, forward thinking plastic surgeons realize that price transparency is a reality that patients want. And rather than forcing a patient to come to a consultation without a ballpark figure of the cost, why not let them know ahead of time, in exchange for the patient's contact information. Eight-five plastic surgeons from across the US and Australia, and now dermatologists, agree!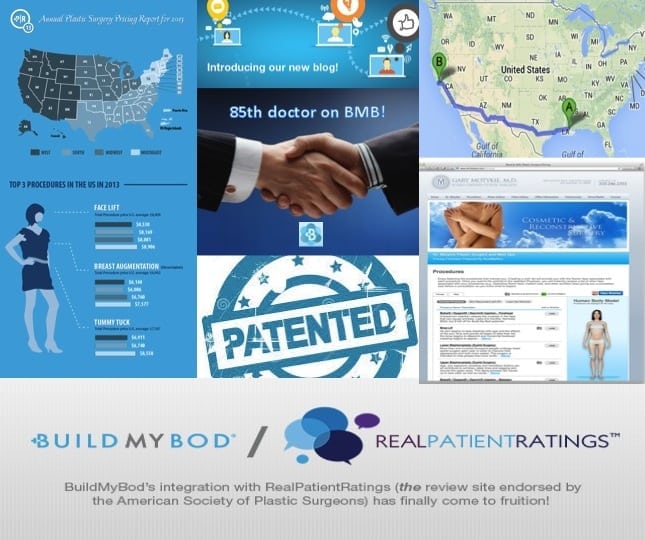 This BuildMyBod blog was in full force by the start of 2013 and we've enjoyed commenting and reporting on issues of healthcare, healthcare economics, cosmetic surgery and even a bit of investigative journalism on the industry influence of the new statin guidelines!
And I believe we saved our biggest developments for the second-half of the year. In late May/early June, BuildMyBod moved to the center of the tech universe – San Francisco. With the opportunity for greater visibility in a big city and of course Silicon Valley, BuildMyBod is positioning itself for growth, heretofore unimaginable!
On the integration front, BuildMyBod has utilized new techniques in computer coding to take our pricing platform and integrate it into individual doctor's websites and other partner websites. So rather than the consumer only finding pricing information from plastic surgeons on BuildMyBod.com or the BuildMyBod iPhone and iPad app, they can now find that same procedure pricing information within the doctor's own private practice website or Facebook page. And let's not forget our first major integration with another website – RealPatientRatings.com! RealPatientRatings is the only reviews website endorsed by the American Society of Plastic Surgeons (ASPS). When searching the website for doctors that are also BuildMyBod physicians, the new pricing tab on the doctor's profile page allows the consumer to check pricing there as well.
And last but certainly not least, BuildMyBod received notification of patent approval for their user interface design! This was certainly icing on the cake after such a productive and exciting year. With such an auspicious 2013, we're looking forward to greater expansion and integration into other fields of medicine. With the new paradigm of higher deductibles with health insurance, many more consumers will be interested in their out-of-pocket costs for care and BuildMyBod, especially with it's integration feature, can help internal medicine doctors, dermatologists, facial plastic surgeons, even veterinarians, provide the price transparency that patients are so desperately seeking.
Click here for the original blog post written by Dr. Jonathan Kaplan for BuildMyBod.?