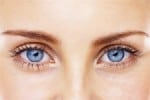 Forehead lift surgery (often refered to as a "brow lift") is an excellent way to smooth and erase wrinkles brought on by sun exposure, stress, and aging that form on the forehead and in between the eyebrows—and according to this year's "Trends in Facial Plastic Surgery" report by the American Academy of Facial Plastic and Reconstructive Surgery (AAFPRS), an increasing number of patients over the age of 35 are recognizing this fact.
Women are more likely to seek out this procedure than are men—in fact, brow lifts were among the top ten cosmetic surgery procedures undergone by women between the age of 35 and 60 in 2011 (accompanied by, among others, blepharoplasty, Botox, facelifts, filler injections, and chemical peels).
The forehead is an extremely important indicator of a person's mood: when we become angry, for instance, most of us furrow our brows, telegraphing to all around us that we are upset. This isn't a bad thing, of course—but when the skin in this area loosens and droops, it can make us look like we're angry, tired, or sad all of the time, even when we're not. Facial surgery can address this issue.
By tightening and lifting the forehead skin and raising the upper eyelids, I can eliminate furrow lines in the forehead region and give you a more refreshed, youthful appearance. Join me in my San Francisco office for a consultation if you're interested in learning more!