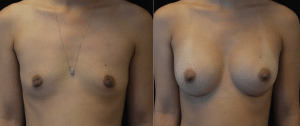 In the past, the word "choice" in breast augmentation referred to several things: on top of the muscle or under the muscle, an incision under the breast or through the areola, saline or silicone. But now you have a new choice: round or shaped.
Whether you get round or shaped implants is dependent on your preference and whether you're a good candidate. For patients that want a very natural look, shaped implants are an excellent choice. However, if you prefer fullness in the upper portion of the breasts, round implants would be best for you. Shaped implants give a more sloped appearance without the upper pole fullness – this lack of upper pole fullness is normally seen in natural breasts.

What makes a good candidate for breast augmentation with a shaped implant? The photo above of a patient with small breasts without any sag or loose skin is an excellent candidate for a shaped implant. In contrast to this patient to the right who has fuller breasts with more droop, her breasts can be better filled and volumized with round implants. Also, if you're looking for a lift (mastopexy) at the same time as your breast augmentation, round implants are more appropriate in this instance.
So in summary, if you have tight breast skin without droop or laxity, and you also want a natural shape to your breasts, shaped implants are a great option for your breast augmentation. Keep in mind, shaped implants only come in silicone, so if you want saline, you're outta luck! Click here to check pricing on breast augmentation from Dr. Kaplan in San Francisco.
Click here for the original blog post written by Dr. Jonathan Kaplan for BuildMyBod.