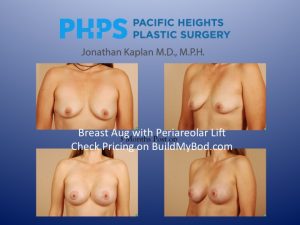 Interested in breast rejuvenation in the New Year? Depending on your goals, you have several options as seen in this previous blog post. But if one areola is just slightly lower than the other, you can benefit from an areola lift without a more extensive lift.
Are you a candidate for an areola lift?
If you have a significant amount of breast droop, you may need the "upside down T" or "anchor incision" to lift the breast. Less, droop, just a "lollipop" incision around the areola and a vertical incision. Even less lift, you may be a candidate for an areola lift.
This is done by removing a crescent of skin above the areola that needs the lift. As seen in the video below, the areola lift is performed after the breast augmentation. Keep in mind that this type of lift can not treat all types of breast ptosis (droop). It's understandable that patients want to avoid visible scars but you also don't want to have sagging breasts after a breast augmentation.
Another way to look at this situation is breast surgery addresses issues of breast size and breast shape. Simply getting big implants may leave you with large sagging breasts. This is why it's critical to address issues of shape with a breast lift.
Video showing areola lift
To check pricing from Dr. Kaplan for various types of breast lift, click here.
Click here for the original blog post written by Dr. Jonathan Kaplan for BuildMyBod.