The Brazilian Butt Lift – neither Brazilian and not necessarily a lift but more of an "inflation" – remains popular. Requests for information and pricing are increasing on the site, BuildMyBod. BuildMyBod is an online marketplace where patients can check pricing on various surgical and non-surgical procedures and even purchase non-surgical services and products.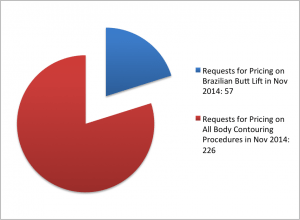 A Brazilian Butt Lift can come in many forms: 1) fat injections after liposuction from other parts of the body, 2) removal of excess skin to lift sagging buttocks and 3) butt implants. Considering the fascination with Kim Kardashian and J. Lo's buttocks, it's no surprise that requests and inquiries for pricing on the Brazilian Butt Lift is increasing. As seen in this chart, over 25% of all pricing requests on BuildMyBod.com in the body contouring category (tummy tucks, liposuction, CoolSculpting, Mommy Makeovers) was for the Brazilian Butt Lift, larger than any other single procedure.
The trend will continue. Plastic surgery is becoming more popular to the masses. It's not just for the "rich" anymore. Plus, consumers are more sophisticated now. They know that if they get liposuction, they can use the fat for their buttocks as opposed to just throwing it away.
If you want to check pricing on the Brazilian Butt Lift or purchase other non-surgical services from Dr. Kaplan, click here.
Click here for the original blog post written by Dr. Jonathan Kaplan for BuildMyBod.