In a recent article in the NY Times, Steven Petrow discussed his ongoing "battle" with his vanity. From non-surgical and surgical plastic surgery to less invasive, but no less stressful hair treatments, he gives interesting insight into the fight to age gracefully.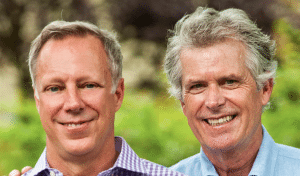 While reading his testimonial, I noticed that he included his NY Times wedding announcement, so I clicked and saw this photo. My first thought was that this guy has done a great job of staying appropriately youthful even though he has had some surgery. I was worried that he would've had that operated look that manifests itself as the face going through a wind tunnel or distorted eyes. The wind tunnel appearance that I refer to is something plastic surgeons call a "lateral sweep." This is when the face has been pulled so tight that the lower cheeks fold in on themselves. Or the eyes change from an almond shape to a round shape. Luckily for him, he has none of this. Based on his article, he only mentions surgery on his eyes and not his face.
Like so many things in life, moderation and reasonable expectations go a long way. Lower eyelid surgery and hair dye fall into the realm of moderation in my humble opinion as a plastic surgeon. He should be complimented on knowing when to say when, as he did when considering if filler was right for him. Because, when it comes to aging gracefully, you shouldn't be judged on the outcome of plastic surgery you choose to undergo, but rather on the surgery you chose not to do.
Click here for the original blog post written by Dr. Jonathan Kaplan for BuildMyBod.?