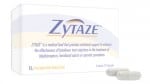 For many who get Botox injections on an ongoing basis, the biggest drawback of the treatments is how fast they wear off. For some the effects can last as long as six months; for others, however, they can fade away within only two to three months.
For those who wish to extend the life of their Botox treatments, a new drug that just went on the market last month—a pill called Zytaze—may be what they're looking for.
Zytaze's manufacturers claim that their new product "enhances the effects of botox and makes it last 1-2 months longer." These assertions are backed up by a clinical trial conducted by researchers from Baylor College of Medicine, MD Anderson Cancer Center, the Methodist Hospital, and Weill Cornell University, which found that of the 98 people recruited to participate (all of whom had been regularly treated with botulinum toxin injections prior to the study), 77 of them reported greater treatment effect and longer duration of the effect of their injections when they took the supplement.
In Botox treatments, small amounts of botulinum toxin are injected into the muscle, and the toxin blocks nerve endings in the area, preventing them from tensing and forming wrinkles. Zinc, which is the primary ingredient in Zytaze, has to be present in order for Botox to act as a neurotoxin; phytase, the other key ingredient in the pill, is an enzyme that helps zinc to break down more quickly inside the body. The combination of the two, the manufacturers say, accelerates the effects of Botox and allows it to last longer.
On the whole, experts appear to think that the success indicated by this initial study on Zytaze is interesting—but that until further studies are conducted, it's impossible to say whether the drug is as effective as the company claims it is, or what the optimum dosage is. The drug is on the market now, but don't act too fast to get it for yourself: if you're considering trying it out, check with your primary physician and your plastic surgeon first—just to be safe!